The Ever-Changing Workspace Pre and Post COVID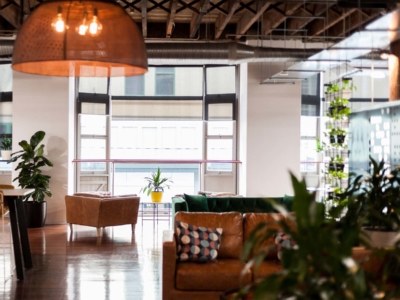 Life after COVID won't ever be the same. Already we have heard the common sayings of 'pre-COVID' and 'post-COVID'. But how will the pandemic change the workspace and how we operate remotely, in shared spaces, or in regular working environments? We take a look at a few ways our work life has and will continue to adapt due to the ever-changing workspace pre and post COVID.
Due to the global pandemic, at some point in 2020, a large majority of us started working from home. Working from home, once only the reality for a small number of individuals was encouraged on a global scale. COVID saw us trade our 'traditional' working life for a new way of working, and it happened rapidly.
Why has it taken us so long to see the benefits of flexible work and working from home?
This has greatly been due to company concerns over productivity, lack of resources, and the age-old problem of doing things the way they have always been done.
Company concerns over employee productivity whilst working from home quickly vanished. A survey of 5000 workers in Australia, France, Germany, Italy, and the UK revealed the majority of individuals believe remote working will become much more widespread when COVID ends. The survey found that many individuals were surprised by how strong their productivity was. For example, 70% of individuals said they worked longer hours because they found extra time to focus on work, which was usually void due to travel times, unnecessary meetings, work distractions, and personal appearance.
Technology has provided us with the ability to work from anywhere.
The understanding that people needed to be face-to-face and in the same room to 'meet' was quickly abolished in COVID. We had to adapt to working and communicating through other means such as video conferencing, phone calls, text, and email. What did we learn from these experiences? They work! Too often we got caught up doing what has always been done and do not see benefits in other methods. Less time in meetings and traveling between those meetings means more time to spend productively on other elements.
What will the future look like?
Moving forward post-COVID, we will see more and more individuals and businesses opting for flexible work. Whether that is part-time or full-time working from home, flexible hours, or alternate locations such as shared spaces. No longer do large corporations need hundreds of employees in one place at one time. Shared offices with flexible hours will be able to provide businesses with the facilities they need on a more flexible. We got a taste for a different way of working during COVID, and for many, there are endless possibilities for the way our work life will adapt moving forward.
We hope you enjoyed this blog – The Ever-Changing Workspace Pre and Post COVID. If you would like to read more posts about working during and after COVID, make sure to check out our interview with The Fold – Made Somewhere Chats With The Fold or read about it on their website here.