What Are We Reading Now? Caps Lock
Caps Lock – By Ruben Pater. Discusses the role of design in social and political contexts and how it can be used to challenge and address critical social issues.
Made Somewhere explores the book Caps Lock. An interesting read for insights into the impact of design on cultural norms, the role of design in activism and social justice movements, and the ways in which design can be used to address issues such as inequality, discrimination, and political oppression.
About the book
The book's title, 'Caps Lock', refers to the use of capital letters in online communication (such as social media), often seen as a way to emphasise or express strong emotions. Pater uses this concept as a metaphor for how design can be used to make a strong statement and convey a powerful message.
Capitalism could not exist without the coins, banknotes, documents, information graphics, interfaces, branding, and advertisements made by graphic designers. Even anti-consumerist strategies such as social design and speculative design are appropriated to serve economic growth. Design is locked in a cycle of exploitation and extraction, furthering inequality and environmental collapse. Caps Lock uses clear language and visual examples to show how graphic design and capitalism are inextricably linked. The book examines how the study, work, and professional practice of designers support the market economy. Six radical design cooperatives are featured that resist capitalist thinking in their own way, hoping to inspire a more socially aware graphic design.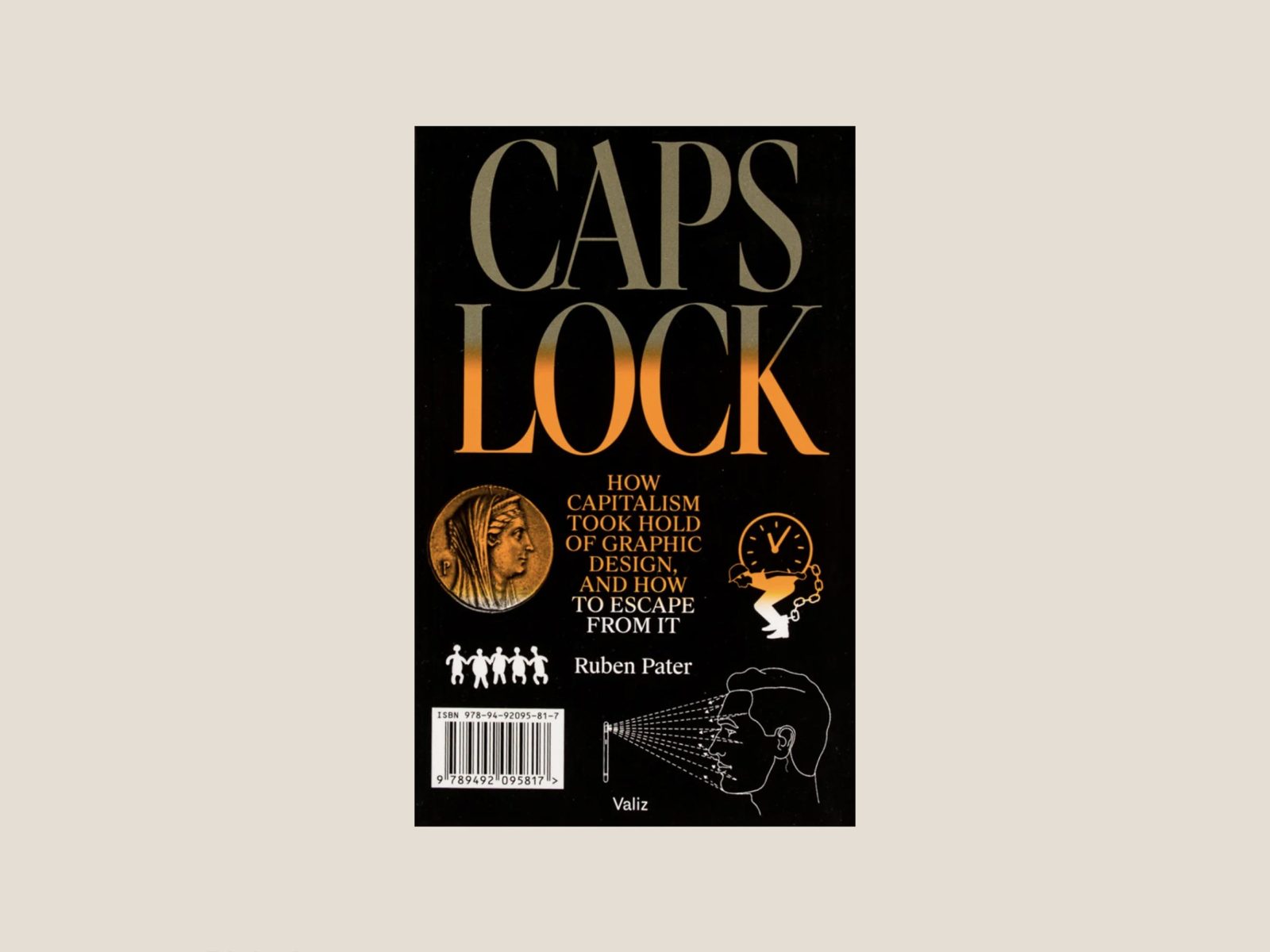 Let's learn more about the author
Ruben Pater is an Amsterdam-based Dutch designer — who is on a mission to create visual narratives about complex political issues.
He studied graphic design in Breda, and later at the graphic design master programme of the Sandberg Institute in Amsterdam. In 2016, 'Politics of Design', a global manual for visual communication was published by BIS Publishers. Currently, he is working on a citizen journalism project in countries with censorship. He is also working on a series of educational puzzles about the NSA leaks for the Dutch newspaper NRC.
Final thoughts
Overall, 'Caps Lock' is a thought-provoking and insightful book that encourages designers to think beyond aesthetics and consider their work's social and political impact.
We hope you enjoyed our blog post – What Are We Reading Now? Caps Lock. Be sure to check out 'Glyph*: A Visual Exploration of Punctuation Marks and Other Typographic Symbols' by Anna Davies. Additionally 'User-Friendly: Hidden Rules of Design'. Both are fantastic books for designers who want to explore design history, design to address social and political freedom, and visual thinking behind design.
*Made Somewhere has written this post to provide a personal admiration for this book to help other designers. Furthermore, Made Somewhere was not paid or endorsed to write this post. Read more about this book at Goodreads.