What Are We Reading Now? User Friendly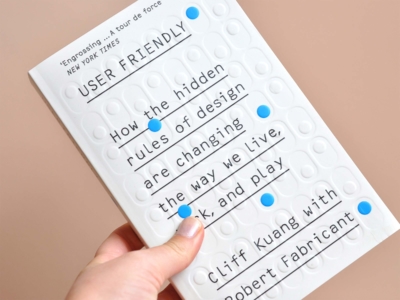 User Friendly: How the Hidden Rules of Design Are Changing the Way We Live, Work, and Play by Cliff Kuang and Robert Fabricant.
Made Somewhere explores the book User Friendly – a great read for insights into the user experience in ai, design, history, and user behaviour. In this book, Cliff Kuang and Robert Fabricant reveal how user-experience design has evolved and shaped our world from moments in history to the present day.
About the book
'User Friendly' unpacks the ways in which the world has been—and continues to be—remade according to the principles of the once-obscure discipline of user-experience design. Firstly, the book looks into some groundbreaking historical events that defined user experience. To illustrate points efficiently the book is broken into two parts. Part 1: Easy to Use and Part 2: Easy to Want.
Let's look at the authors
Cliff Kuang is a UX designer and an award-winning journalist. He was the design editor at Wired and Fast Company, where he edited or wrote over 7,000 articles on design. His writing has also appeared in the New York Times, Bloomberg Businessweek, and The Economist.
Robert Fabricant is a co-founder of Dalberg's Design Impact Group and former Vice President of Creative for Frog Design. He has won numerous design awards and spoken widely on design and social impact, for the Harvard Business Review.
Final thoughts
This book is great if you're interested in ai, user behaviour, social progress and history in relation to user experience.
We hope you enjoyed our blog post – User-Friendly Hidden Rules of Design. You may also be interested in 'Glyph*: A Visual Exploration of Punctuation Marks and Other Typographic Symbols' by Anna Davies. Additionally 'Caps Lock by Ruben Pater'. Both are fantastic books for designers who want to explore design history, typography, and visual thinking behind design.
*Made Somewhere has written this post to provide a personal admiration for this book to help other designers. Furthermore, Made Somewhere was not paid or endorsed to write this post in any way. Read more about this book on Penguin.